Read past issues of 'In Our Age'
To get the print version of In Our Age please subscribe here.
The digital version of In Our Age lags behind the paper issue by two or three issues.
Individuals are permitted to download these digital versions for private, research, or educational purposes, but not for any commercial purpose without further permission from Herefordshire Lore.
For reproduction queries, please contact us.
---
To read the digital versions of In Our Age click on the red button and follow the instructions. There is currently no fee for downloading these digital versions. However, you will need to provide a valid email address and your name. This will be used to send the download link and enable us to contact you when new issues of In Our Age and other publications are available.
---
In Our Age Issue 62 Autumn 2021
Inside Issue 62 is a story about the Indian Regiment at Hereford Racecourse, hop picking in Bromyard, Howle Hill motorbike scrambling club and much more.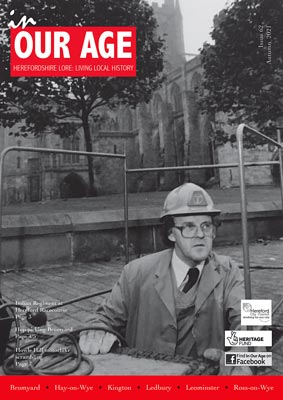 ---
In Our Age Issue 61 Summer 2021
Inside Issue 62 are remembered stories of Herefordshire life, including the River Wye Carnival, Ross-on-Wye Carnival and Weobley Carnival. We look at Eardisland village school, the work of coopers (barrel makers) in Herefordshire, the Three Choirs Festival, with the sports page covering The Couriers Running Club, fencing at the teacher training college and pub sports.
Mentioned in this issue: Robert Edwards; Saxbys; Richard Jenkins; Leominster; Eardisland; Hilary Engel; Golden Valley Faces; Roger Hewlett Sell; Robert Young; King's Shropshire Light Infantry; Master Cooper; Cheltenham & Hereford Brewery; Bulmers; Angie Harmen Sale; Weobley; Rev Chris Rhodes; Warren Mitchell; Alf Garnett; Bill Dyer; Gary McLeod; Vaga Tavern; Hunderton; Herefordshire Histories; HARC; Doris Kershaw; River Wye; Bridge Sollars; Monnington Falls; Bert Crissall; Ivy Manning; St Weonards; Christine Jenkins; Barbara Evans; Joan Sparey; Gwen Morris; Mrs Watkins (Corras); Ivy Manning; Janet Pawson; K Williams; Joan Price; M Humphries; Mrs Poyner; Frances Matthews; Vera Jones; Enid Watkins; Ashlene Bevan; Doris Virgo; Mrs Williams; Jenny Jenkins; Molly Cornwall; Winifred Matthews; Evelyn Bevan; Nurse Mabel Meadmore; Derek Davies; B. Pritchard; P. Higgins; P. Mayne;  B. Morris; M. Fowler; G. Davies; B. Hodges; J. Norton; M. Fowler; D. Davies; Couriers; Brian Foster; Tracey Goodwin Sports Gear;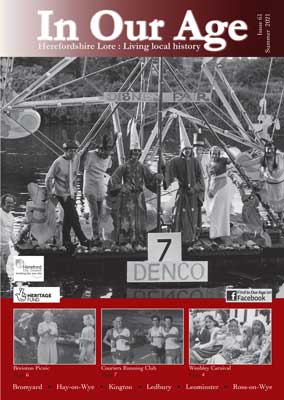 ---
Read 'In Our Age' Magazine online by clicking on the cover image. (You may be asked to download and save the PDF).
---