---
Herefordshire Lore has been collecting, publishing and archiving people's recollections since 1989. Herefordshire Lore works to remember, celebrate and record Herefordshire's oral history before it is lost with passing generations. It is run by a group of volunteers who design, plan and gain funding for projects. A diverse range of resources have been published including the quarterly 'In Our Age' which can be read on this website. To get the latest print version, please subscribe. 
---
---
Hereford History Day 2023 triumph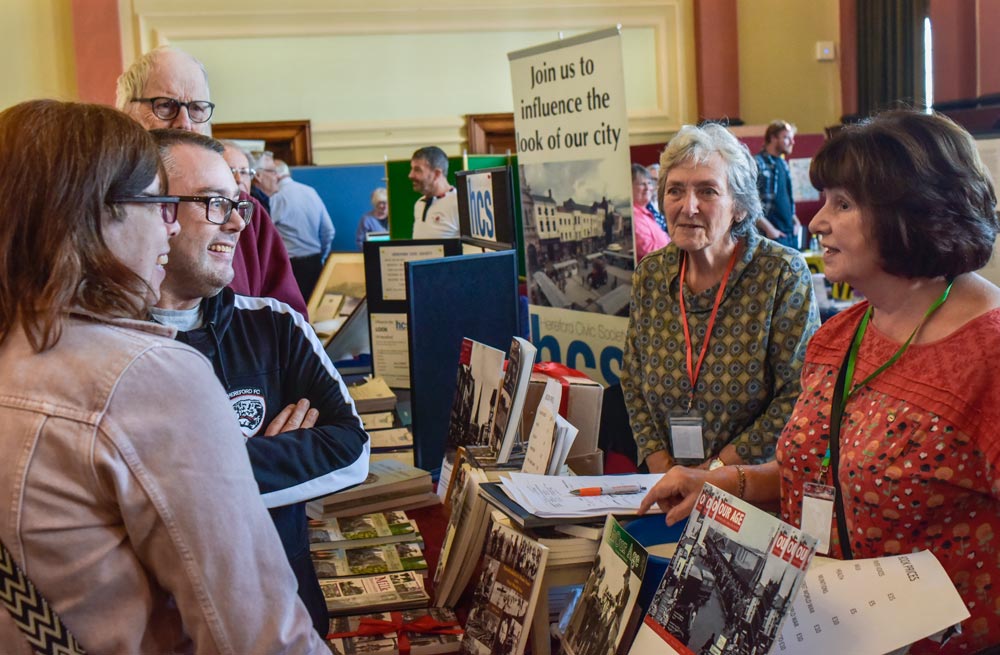 Pictured (R to L) are Jean Mayne and Eileen Klotz of Herefordshire Lore talking about our work of collecting, publishing and archiving people's recollections – photo © Christopher Preece 2023
Herefordshire Lore were overwhelmed by the turnout and support by the people of Herefordshire, who made Hereford History Day such a success. Thanks to everyone who came along, and especially the people who worked so hard to showcase the diverse and amazing history that we are so lucky to have around us.
This event took place on Saturday 23rd September 2023 at Hereford Town Hall. Twenty groups and organisations showed what Hereford has to offer in the way of History, and about one thousand people turned up to browse, chat and listen to our guest speaker, Nick Barratt, from BBC's 'Who Do You Think You Are?' who was sponsored by Herefordshire Family History Society.
Thanks to all our sponsors for making this event so successful:

Thanks to the following groups and organisations for attending:
Bartonsham History Group,  Hereford Guild of Guides, Hereford Museum & Art Gallery, Herefordshire History, Light Infantry Museum, Cathedral Archives & Historical Collections, Rotherwas Together, Herefordshire Family History Society, Herefordshire Archives and Records Centre, Hereford Civic Society, The Woolhope Club, The Museum of Cider, The Waterworks Museum, Weobley Museum, Herefordshire College of Arts, and Hereford Rowing Club.
Watch Herefordshire Lore's 'Hereford History Day Slideshow' with photos from our archive of 'Made in Hereford' produced by our Christopher Preece:
---
The latest issue of our quarterly magazine 'In Our Age' is hot off the press.
We have sent a copy to all current subscribers and have a limited number that will be distributed around Herefordshire.
If you want to secure a copy, please subscribe now and ask for Issue 69 to be included.
The digital version will be available in about 12 months time to non subscribers.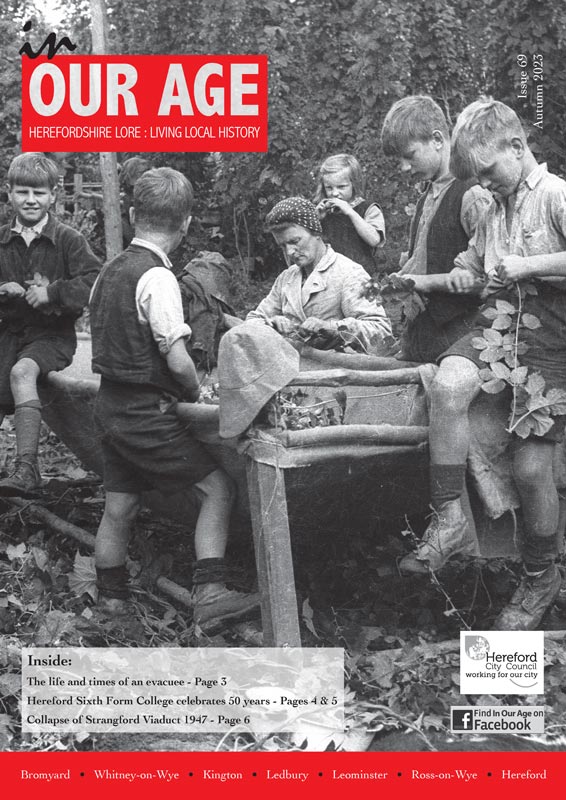 In Issue 69 – Autumn 2023
Our cover photo shows hop picking, it was taken at Dorminton in the 1950s.
Issue 69 includes:
Hereford History Day
The life and times of a Liverpool evacuee
Hereford Sixth Form College celebrating 50 years this year
Collapse of the Strangford Viaduct in 1947
Bulmers Accounts Department in 1947
---
Download the a sample digital version of In Our Age  – Issue 62 Autumn 2021
Inside Issue 62 is a story about the Indian Regiment at Hereford  Racecourse, hop picking in Bromyard, Howle Hill motorbike scrambling club and much more.
To download Issue 62 just click on the red button and follow the instructions. There is currently no fee for downloading this digital version. You just need to provide a valid email address and your name.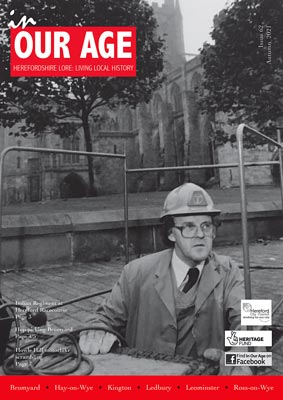 ---
Magazines
Our quarterly magazine In Our Age' has been published for over a decade with over 60 issues.
'Age to Age' was published bi-monthly from 1993 to 2003 and was the forerunner of 'In Our Age'.
We have also published many books, including: –
Published booklets include:-
Our thanks go to our many contributors and funders especially the Heritage Lottery Fund.
---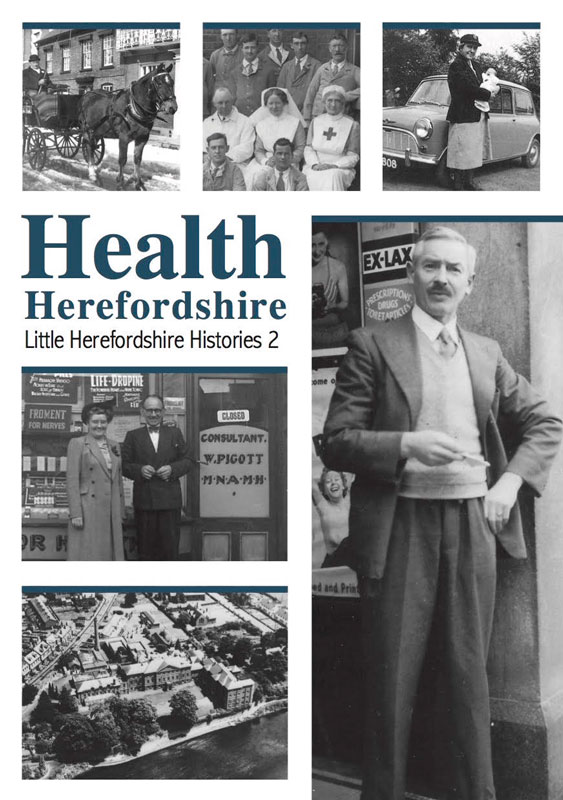 In 1948 the National Health Service was formed, bringing free health care at the point of delivery for the first time to all. Before then visits to the doctor were largely dependent on one's ability to pay for treatment. Stories of health in Herefordshire are told by patients and clinicians; midwives and dentists; GPs and pharmacists; and even a herbalist and the local bonesetter.
---

Read past issues of 'Age to Age' – Hereford Lore Reminiscence Newsletter on our new 'Age to Age' page.
'Age to Age' was published bi-monthly by Hereford Lore, before we became Herefordshire Lore, from 1993 to 2003 and was the fore runner of our quarterly magazine 'In Our Age'.
There are all sorts of fascinating snippets of history and heritage including:
Alf Evans's recollection from 1942, 'Tragedy Strikes R.O.F.' from 1942 published in Volume 1 Issue 6 in May 1994.

Why in 1957, when the Queen visited Herefordshire, a pig took centre stage in 'Pig meets Queen' by Betty Moore published in Volume 4 Issue 4 in July 1996.

Gladys Sweeney recalls memories of cleaning railway carriages in Barton Yard (now Sainsbury's) during the war published in Volume 10 Issue 6 in December 2002.
---

Herefordshire men and women relate their experiences of the First World War. The stories are based on original recordings made by the county reminiscence group, Herefordshire Lore and Herefordshire's Home Front in the First World War by Bill Laws.
---