Herefordshire's Home Front in the Second World War 2019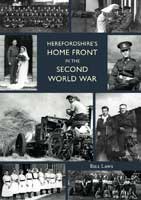 Herefordshire's Home Front in World War Two, is based on people's pictures and memories, collected by the county reminiscence group Herefordshire Lore. The author, Hereford-based journalist and historian Bill Laws interviewed many of the book's contributors. "This is the story of one of the most traumatic events of the twentieth century, told by the people who were there," says Bill.
You can purchase Herefordshire's Home Front in World War Two for £10 plus £2.50 UK postage and packing per book.
To order a copy of Herefordshire's Home Front in World War Two please send your name and address together with a cheque for £12.50 per book made out to Herefordshire Lore to :
River Voices 2018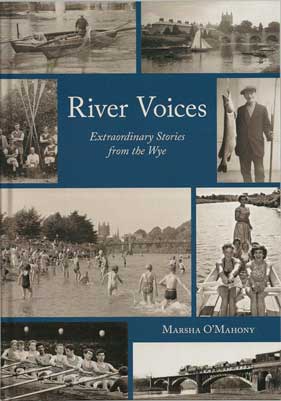 In the summer of 2017 a team of Herefordshire Lore interviewers travelled up and down the river, speaking to swimmers, walkers, anglers, ferry women and men, canoeists, bailiffs, ghillies, poachers, bridge keepers and more, recording their stories from this lovely river of ours.
You can purchase River Voices for £10 plus £2.50 UK postage and packing per book.
To order a copy of River Voices please send your name and address together with a cheque for £12.50 per book made out to Herefordshire Lore to :
Herefordshire Lore c/o Castle Pavilion, Castle Green, Hereford HR1 2NH
A Slap of the Hand – The History of Hereford Market 2007
'In those days a slap of the hand and the deal was done'
From the world-famous pedigree bull sales to the infamous sales of wives; from drovers' tales to the strange story of Eddie Drew the bone setter; and from Dean Leigh's temperance cafe to a memorable race between a prize pig and a champion runner, A Slap of the Hand is told in the words of the people who worked there.
Herefordshire's auctioneers, farmers, farmers' wives, cattle dealers, sheep men, pig and poultry dealers, hauliers, butchers and drovers all lend their voices to this unique record of Herefordshire country life.
As one auctioneer put it: 'The Market is all about the relationship between Man and his animals. And it's a wonderful relationship.'
Edited by Bill Laws, additional research Bobbie Blackwell
Published by Herefordshire Lore in association with Logaston Press.
Price £10 plus £2.50 P&P
In The Munitions – Women At War In Hereford 2003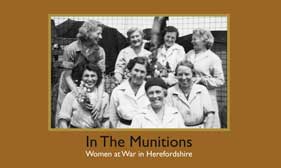 Nearly 6,000 people worked making shells, bombs, landmines and torpedoes at Hereford's munitions factory. It was dirty, dangerous work. At least twenty nine died a violent death at what was one of Britain's oldest, and largest, explosives filling plants.
Compiled from interviews with former workers, and presented as told, In The Munitions – Women At War In Hereford is a diary of those days. "It was all hush-hush.
There was a railway to take the bombs away but where they went to we didn't know." "I got as far as the road and this bomb went off. Something struck my leg and I couldn't move. I thought: 'This is my lot.'" "I went in with him and he was in tears. I picked up a corrugated sheet on the roadside and there was a girl's head under there." "What a terrible thing – working our lives out to blow other people to pieces."
Memorials were later erected at Rotherwas in recognition of their services.
This was a Local Heritage Initiative Project, a partnership between the Heritage Lottery Fund, Nationwide Building Society and the Countryside Agency.
Edited by Bill Laws, additional research Bobbie Blackwell
Home Made – Home Grown 2005
Herefordshire Lore collected a compendium of good advice, information and anecdote on food during the Second World War. Around forty people shared their memories of war-time food.
"Having very few ingredients to cook with led women to invent their own, closely guarded recipes."
"We had to dig up the lawns to plant potatoes: Aran Pilot as Early, Majestic was an old favourite while Kind Edward was a soft potatoes that the slugs liked!"
"My mother said I couldn't join the Women's Land Army – so I wrote to them and that was it! I was a land girl!"
"The small holdings down at Canon Bridge were mostly self-sufficient. The only things we bought in were tea and sugar, not much else."
"We used to drink a glass of cabbage water with our dinner! They used to say: it's good for you,' well, it was – it made you run to the toilet! That's why is was good for you!"
Out of print
Amazing How Times Change 1997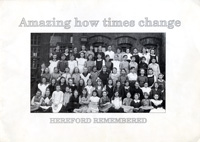 Lawrence of Arabia, TV's Gilbert Harding, Gandhi, Elgar and the Old Straight Track's author Alfred Watkins, were still within living memory when Herefordshire Lore first interviewed local people.
"I had to take something to the stables in Commercial Road, but this fellow said: 'Don't come now missy. They're hanging someone at the goal.'"
"I remember the black gates, the old toll, that were along Widemarsh Street. In the day they were open but after a certain hour they were shut and you had to pay a toll. They were a nuisance."
"We filled hundreds of bottles and cans of tea for the navies building the new munitions factory down here in 1915."
"I lost my little girl to Dr * * * *. She died on the Monday morning and then he came. I cursed him. I said: 'You should have come. You could have saved her life.' She couldn't go in hospital see because they were sending the soldiers back from the war. And I said to him, well don't you ever send a bill for me, I said, because I'll never, never pay it. Nor he never sent me a bill."
Out of print
Magazines
---
In Our Age

An 8 page print magazine with snippets of Herefordshire's local history collected from far and wide. See the In Our Age page to read past publications online. To get the latest publications delivered to your door please subscribe.
Booklets and Leaflets
---
Age to Age – leaflet 1993 – 2003
Age to Age was published bi-monthly from 1992 until 2003 and was the fore runner of our quarterly magazine In Our Age. We have scanned the old issues and have re-published them on this website.
Out of print
The Shopkeeper's Tale – booklet 1996 24pp
The Shopkeepers' Tale, told in the words and pictures of the people themselves, is Hereford Lore's second publication of local stories.
Out of print
The Schoolchildren's Tale – booklet 1997 32pp
Read about Brenda, lost in a city snow drift; the teacher who danced like a dervish; Holme's big game hunter and the headmaster who kept a rifle behind his desk.
Out of print
A Wartime Walk – leaflet 2004
Look down on this former World War One and Two munitions factory from the side of Dinedor Hill.
Out of print